Archive Mondays: May 17, 2004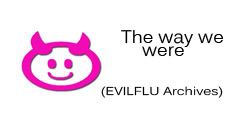 This was my birthday. I know what you're thinking, why did this dork get so excited over a baby stroller for her birthday? You didn't see that thing, it had a STEERING WHEEL and cup holders. Plus who doesn't want a new stroller when you have a little baby. Don't laugh.
I used to go see male strippers for my birthday and now I get to change dirty bums and watch the care bears...I'm definitely not complaining though...I love every minute of this. Mason was watching "hamtaro" this morning and laughing his ass off...I can't believe he watches TV and laughs at it...what a kid!
I got my birthday present early...it's sooo cool...a new stroller. It's a jeep cherokee, black and red...very cool! My old one looked like it was about ready for the trash. It's kind of sad to get rid of it since Mason's first car seat attaches to it but I think I'll be okay to get rid of it. I'll definitely have to get another one if we ever decide to have another baby though because this jeep one doesn't hold a car seat....hmmmf I thought it would...oh well.
Brenda came over and took Mason for a walk so I could get my house to look half decent again...not happening...instead I'm catching up on e-mails and blurty...guess I should get going so it looks like I did something and she doesn't think R. and I did it while she was gone *lol* I think of the weirdest things!! I guess if I took my friend's baby for a walk so she could clean her house and came back and nothing was touched I would think the same thing!
Off to make my house look and smell better *lol*
ABOUT THE AUTHOR
Hello..this is my blog. I bought this fancy theme and I don't know what to write here just yet. Maybe one day remind me I have to write something inspiring here?