Archive Monday: March 27, 2004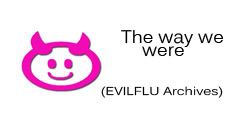 I can't remember ever being this happy. I liked this post. My favourite...especially the "changing a poopy" part.
Mason is so great!! I don't know what I'd do without him. To be honest...at first I was a little disappointed. My life changed so quickly, I was feeling very emotional and nothing was going on...everything revolved around the baby. Now I'm just so happy he's here. Every morning I wake up and there he is smiling away at me. He is the happiest little guy and I just love seeing him smile when he first wakes up. Beats the times when he wakes up bawling his eyes out!! I love how he coos and goos at me all the time, I can be wiping his poopy but and he's there having a good ol' conversation with me about something. What? I don't know, only he knows what he's gooing about but apparently it's something good =) The other night I was changing his clothes and he laughed. It was such a beautiful thing. It's one thing hearing babies laugh, but when it's your baby...its so beautiful.
I'm so proud of him and everything he attempts. He's only 2 months old and already he's trying to copy things we say. He's getting to be such a big boy. Always bright eyed and holding his head up all by himself. I can't believe how fast they grow up!!
I'm off to go snuggle with my little guy while he sleeps...I love it :)
ABOUT THE AUTHOR
Hello..this is my blog. I bought this fancy theme and I don't know what to write here just yet. Maybe one day remind me I have to write something inspiring here?