Archive Mondays: November 21, 2003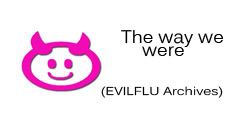 November 21, 2003 (I had gone away to an out-of-town baby shower that R. was not able to attend because of his treatments. When I came home my whole house, including the baby's room had been painted. To top it off, he went out and bought a crib. Since I'm usually such a control freak, I'm glad I didn't freak out and cry about it, I was actually happy!):
I came home on Sunday to find my whole house had been painted. It was really nice. I was a little creeped out to know that a few people were poking around in my closets and re-arranging stuff of mine but everything is back to the way I like it. Also, the sweet hubby that I have went out and bought a crib and set it all up in the baby's room for me. I love it :) I guess he was staging his own "while you were out" and I called the one day saying my mom wanted to furnish the nursery so he got a little nervous about the whole thing but I bet mom will be glad to know, no crib buying will be in her near future ;) I pretty much have the room set up to my standards, a dresser needs another coat of paint and a bookshelf needs to be refinished but other than that things look marvelous if I do say so myself!
ABOUT THE AUTHOR
Hello..this is my blog. I bought this fancy theme and I don't know what to write here just yet. Maybe one day remind me I have to write something inspiring here?