Archive Mondays: May 8, 2003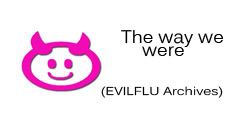 May 8, 2003 (Topic: I. AM. PREGNANT - I don't remember being this happy at the time, I guess it was exciting. I'm sure the "holy shit" feelings set in shortly after I wrote this post):
I can't believe it!! I can't wipe the smile off my face either. This is so great. I went to the grocery store and I felt like telling the clerk I was pregnant *LOL* I'm off for the weekend though to Rus' brother's house. I hope we have fun. I don't really feel like going much since I've been pretty tired and mellow lately but oh well. I won't be doing the partying I thought I would be but it should still be much fun :)
ABOUT THE AUTHOR
Hello..this is my blog. I bought this fancy theme and I don't know what to write here just yet. Maybe one day remind me I have to write something inspiring here?