Archive Mondays: June 9, 2003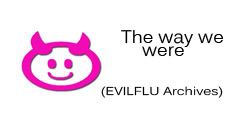 June 9, 2003 (After being pregnant for about a month, I started thinking that maybe it wasn't so cool to be immature anymore):
It just dawned on me that I can't be silly anymore. I have to be a responsible woman now...I'm all grown up. How sad. I would love to talk about my favorite junk food or how fun cartoons are right now but I won't. I just want to go to a prom or go out and stay out all night with my friends and get in trouble by my mom the next day when I finally come home or sleep over at a friend's house on a school night...or have a crush on somebody...or be obsessed with my boyfriend...these things are all over for me *sniff*
ABOUT THE AUTHOR
Hello..this is my blog. I bought this fancy theme and I don't know what to write here just yet. Maybe one day remind me I have to write something inspiring here?