Archive Mondays: March 5, 2003
I've decided to start posting some stuff from an old blog I have. The old blog is a little bit more personal, not that this stuff isn't personal on here, but the old blog was from a time when I actually had an interesting life.

So, every Monday I will have a wonderful little quote from my old blog that actually meant something to me (because honestly most of the old blog was like: I ate toast today). So you can laugh/cry/get angry every Monday until I run out of quotes.

Feel free to laugh your asses off at my stupid immaturity and then cry as I became the most pathetic person in the world. Honestly, I don't mind if you do!

________________________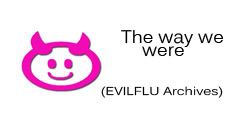 March 5, 2003 (R. and I had just moved in together into our own place. At first he had moved in with me in a home that my family owned, when that home sold we had to find other arrangements, and while it was exciting, there were a few little "bumps" in the road along the way. I think this was a bad day for both of us):

"I'm actually feeling a little insecure here. I mean when R. moved in with me, that was my house, and now that this place is in his name and he makes more money than me he's got control over more things than I. For instance, today he demanded I take my hello kitty window clings out of the front window because his friends made fun of him. I happen to like those window clings and I can't say nothing about it because he's acting like Mr. Macho who owns the place."
ABOUT THE AUTHOR
Hello..this is my blog. I bought this fancy theme and I don't know what to write here just yet. Maybe one day remind me I have to write something inspiring here?