Archive Mondays: April 10, 2003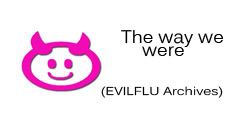 April 10, 2003 (I got a phone call that my grandpa had died. It was a complete shock as we had just visited him not too long before that. He was a really grumpy, old pervert and nobody in the family liked him - nobody - except my family, so it was and still is hard for me to think of him being so alone in the end):
My grandpa's furnace broke one year around Christmas, so my mom invited him to stay with us for Christmas and he accepted. My grandpa never seemed to be a grateful man but I could see that meant a lot to him even though he was crabby the whole time there. At one point, he told me that he loved my grandma very much. I never heard him say anything like that. So I told my mom and my aunt what he said and things were okay for a short while. We would take Pa out (and he would hit on young girls!) and he would stay over once in a while. I don't know what happened after that, but somehow he ended up in a nursing home after we didn't see him for a few months. This man's home, the home I grew up in, was so bad that it had to be condemned and tore down. He had holes in his ceiling where raccoons fell through on to his kitchen table and his bathtub was always filled with fan motors. He never ever did anything wrong to me. He was a father figure to me, and although he wasn't the greatest person when it comes to attitude he showed me love by bringing me chocolate bars after his poker games or finding me toys in people's garbage and fixing them up so I could play with them.
I loved Pa, but I was ashamed to admit it because my family would all jump on my back and tell me how bad of a person he was. I admitted it to my cousin Michelle and she told me she went to see him a few days ago and he was saying how I owed him money...my mom did, not me, he was confused. So Michelle said we should go see him and bring him fish and chips because that's all he said he missed last time she was there. So Michelle organized it all, bought the fish and chips and told the home not to give him dinner that night because we would be there at 6 to give him dinner. Well we were there at 6 on the dot and there was Pa eating his gross-looking meal. We figured he wouldn't eat anymore, he was almost finished. So the nurse wheeled him into a room with us, and I have never seen anything like it in my life, my grandpa, an 80-year-old man who could get up and run for anything - especially money or women - was in a wheel chair wearing old-people pyjamas and one shoe. I asked him where his shoe was and he didn't know. Michelle asked why he was in a chair and he said the people put him in it - but he can walk. So we thought this was a bit strange and asked a nurse why the chair. She told us, he hadn't walked since he got in the place and his broken hip probably wouldn't heal enough so he can walk again. Pa thought I was my mom, he thought my cousin's kids were mine...he was confused but he kept smiling and patting my face. He ate that whole plate of fish and chips and was so happy that we were there, since he has no friends and my family all hates him. We had to leave soon after that and I felt terrible leaving the guy there. We made arrangements to come again before I went back home, but I never did. I planned on writing to him there or calling him once in a while, but I never could....and now he died and I feel the same way as when my grandma die...why didn't I call or write?
There won't be the $10,000 funeral like my grandmas. There won't be any of his friends to see him off and tell me how they used to remember my grandma pushing me around in a shopping cart. I won't have to deal with the faces looking at me like "you poor thing, your life really sucked". I hate funerals. So did my grandpa, he probably never even went to one his whole life. My uncle is having a party. A "party" that seems unfair. I mean, if there's no funeral, why a party? To celebrate how lonely he was in the end. How he had nobody to care for him or see him once a day. How he had to live with a bunch of old people and probably seen them all die around him everyday and thank god it wasn't him. I just hope he's in a better place now and I don't think I will attend his "Party" thank you.
ABOUT THE AUTHOR
Hello..this is my blog. I bought this fancy theme and I don't know what to write here just yet. Maybe one day remind me I have to write something inspiring here?