Ryan Adams/Oasis Concert (December 15, 2008)
AKA - The Day I *ALMOST* Met Ryan Adams...
or AKA The Day I Did Meet Neal Casal and Made A Fool of The Cat Hat...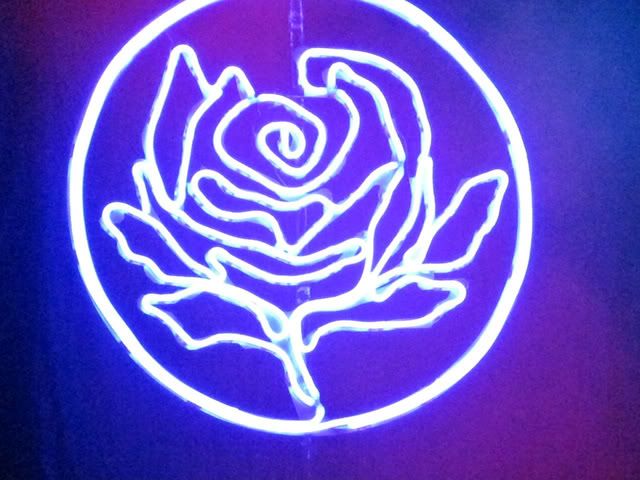 Remember how much I love Ryan Adams? So yeah, he came to my city...he was in my area...sleeping just blocks away from my house. I know that sounds teeny bopperish and scary, but really I was just so excited! I hadn't been to a concert in years...and to see a band I have been obsessed with just makes it all the better. Not to mention getting to see Oasis too...that was pretty cool as well.

The original date for this concert was sometime back in September but unfortunately some dickweed pushed Noel Gallagher off the stage in Toronto (at 1:30 in the video) and they had to cancel our show which was to happened to be the very next day. I was so bummed....I was very looking forward to seeing Ryan Adams and the Cardinals more than anything and at that point I wasn't even sure if they would be back with Oasis. Luckily they were quick to reschedule and The Cards were coming back so I was happy again. Waiting until December 15 was hard, but with my trip and Christmas stuff the time just flew by!

December 15 I could hardly do any work. I was SO excited. I just wanted to get out there and relive my youth and stalk out the band and meet them and tell them how much I loved them and then probably go away shaking like a leaf because I would be so terrified that I made a fool of myself. I dropped Mason off at home with my brother and I was off! I decided to scope out the scene a bit (stalker). I went to the hotel they were staying at and walked around whistling and taking my time hoping to run into somebody. No luck. I did notice a couple guys with some Ryan records but I didn't think anything of it (duh!). I went to the bank and walked back that way (you know, I needed a diversion so I didn't look psycho!). I decided to talk to the guys with the Ryan albums.

I asked them why they were standing out in the cold with Ryan's albums. They said they were waiting for the band to come out and that Ryan had just came out 2 mins earlier but refused to sign their stuff (*sob* damn me and my wanting to look cool by going to the bank!!!). I saw a reaction on their face and when I turned around I was face-to-face with Neal Casal!!

So me, freezing my butt off with rosy red cheeks and my cat hat secured on my head bent down to look under my cat hat and said HI right in Neal's face. He said hi and then I ran away like a little scared girl...I even saw more of the band coming but I still ran...right by the bus...then I realized that Ryan was on that bus and probably thought I looked like a dork so I just kept running.

There was still lots of time before the show so I went to the market and ate some Pad Thai and listened to a man play guitar for money...and he was really good at playing and singing so I gave him some money and off I went to the bathroom to shove my camera in my bra (reliving my youth I tell ya...luckily they are making digital cameras smaller and smaller now!!).

I had called the JLC (John Labatt Centre) earlier that morning to find out more about their camera rules and the guy informed me that there would be a strict policy on no cameras. I would not have it!! I decided to bring 2 cameras (and iPhone as a back-up cam) that way if one camera got confiscated (impounded) then odds would be I would still get the second one in. So Kodak camera was firmly shoved in the boobage (which kind of hurt after a while) and huge honkin Canon PowerShot was in the side pocket of my purse.

Security guard #1 (man) checked my purse and didn't find Canon (even though the thing probably weighs 2 pounds...no joke!). I was so excited...I got away with it!! Then it was time for Security guard #2 (woman) to pat me down...Kodak was safe! Then she asked me to check my purse. I stammered that guard #1 already checked it but she didn't care and said she had to check it too. I just knew I would be busted...but then...."okay have fun!". I walked in clutching my purse to my heart (which was now pounding out of my chest). I got not one, not two, but three cameras into this place with "strict no camera rules". Teehee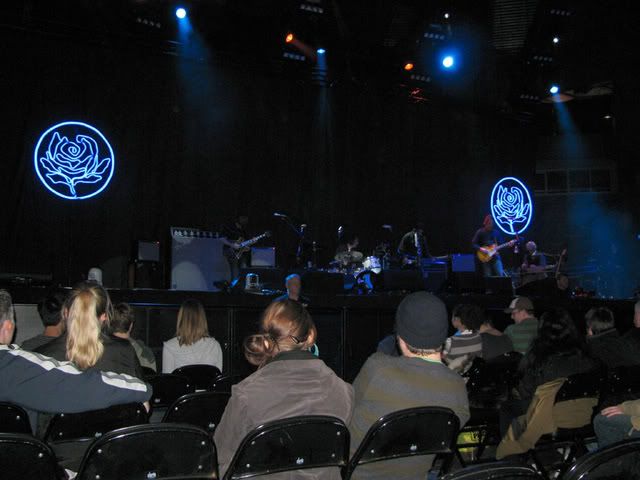 Look Ma! No Zoom!!
So then I went and found my seat (which honestly couldn't have been awesomer! I paid a hefty $80 but it was SOOOOOOOOOOOOOOOOOOOOOOOOO worth it! Kodak was becoming pretty poky in my cleavage so I did a quick check around...and I noticed lots of people had cameras (huh?) so I took it out of my bra (oh so gracefully I might add) and sat patiently. Then something came to me...T-SHIRT!! I had to have a Cardinals T-shirt. I went to the stand and saw that not only did they have the T-shirt I had been drooling about for weeks, but they also had Ryan's book Infinity Blues which was only sold as a pre-sale item as of now and only available on the Internet for a hefty $50 (after you account for shipping etc) and that was only for a paperback! I almost peed...I swear! I didn't have enough cash though so I went and took out more $$ from the ATM near by (which had a $2.00 fee...hmff) and got in line to buy my book.

I noticed a guy came to the side table (where they weren't servicing people from) and asked about the book. The lady told him it was the last copy on the wall. He asked if he could buy it and she said she would go ask. Another lady shooed him from the side counter and he got in line BEHIND ME. I got up and excitedly pointed and said I WANT THAT BOOK and that t-shirt. Well the guy went to grab me the book and SUPER-BITCH said "no, I already sold that book to that guy back there". So I argued back "too bad...he is in line after me". To which she said something along the lines of "too bad" to where I told someone to F-off... (again reliving my youth), took my t-shirt and stormed off. I hate stupid t-shirt/book selling people.

I went back to my seat to pout...but not for long because Matt Costa was on and his music is pretty cheery and happy...and then...THERE WAS MY BAND!!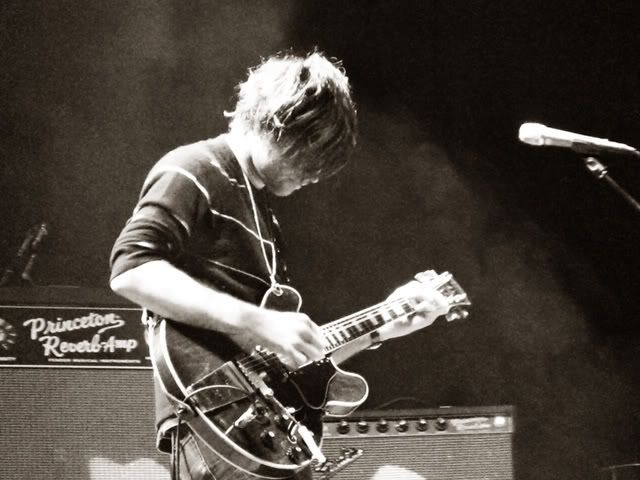 ...this one turned out to be my favourite pic!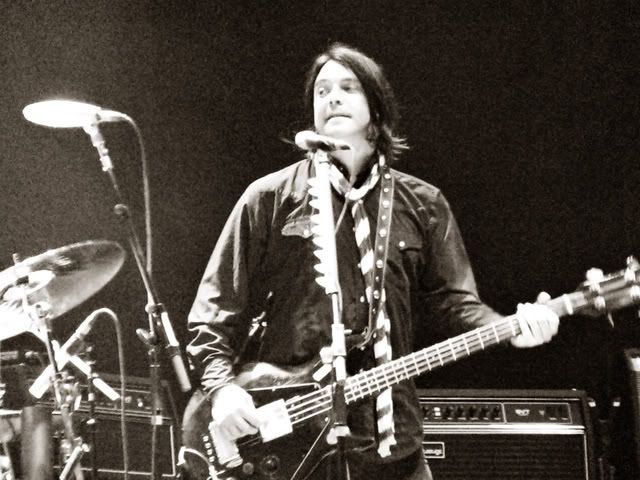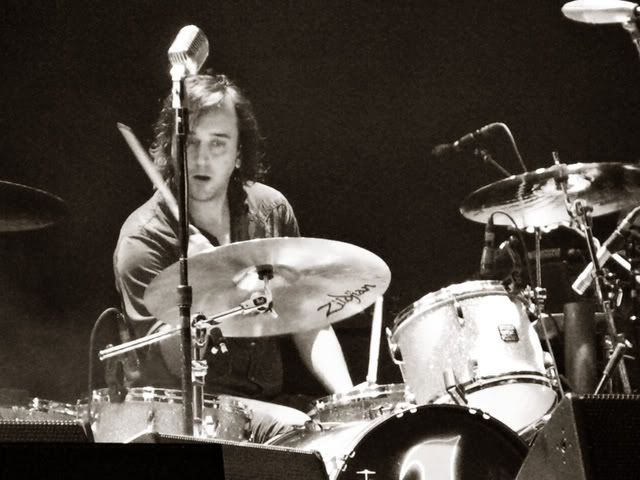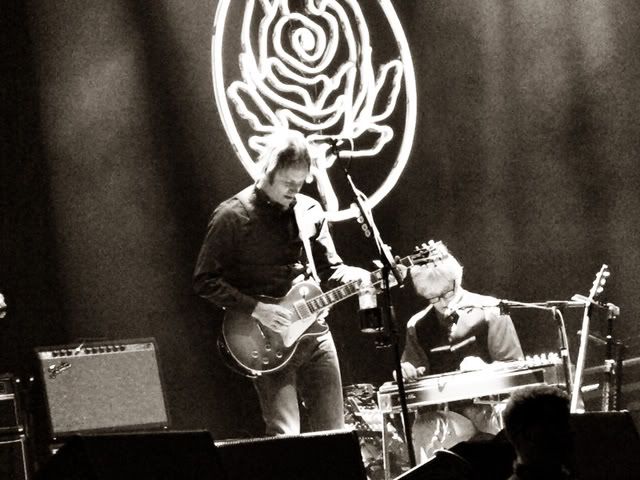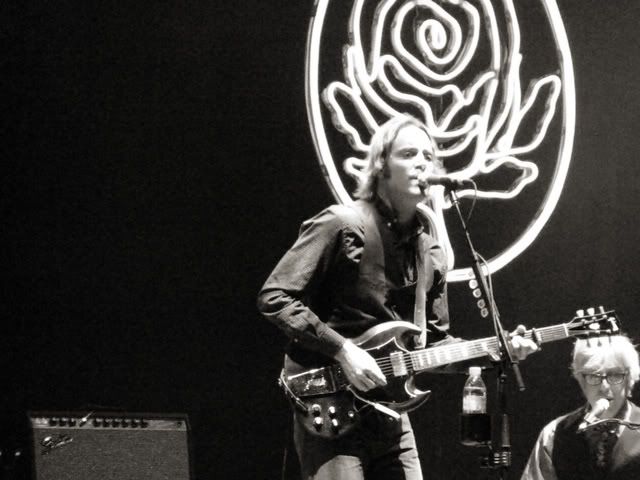 I met him!!

Now, as much as I love Ryan, I have to say he didn't seem to be in the greatest of moods. He did not look up to the audience once...or at least my way! He didn't talk at all...just jammed and sang his heart out. It's okay though, I still love him. The band sounded absolutely amazing and mark my words if they come anywhere near me again I am so there! Even if I have to travel hours on a greyhound bus hoping I don't get stabbed when I fall asleep, I will be there! They played for about an hour and played some awesome songs from their new album Cardinology as well as a few old favs. It was just spectacular. I got some pretty okay pictures, not the greatest, but still wonderful to me.

Next up was the dilemma. I was getting pretty sleepy, so the question was do I stay for Oasis or leave. That really was my question all night but truthfully by the time The Cardinals were done I was so pumped it didn't really cross my mind...I wanted more!!

Oasis puts on an AMAZING show. I am proud to say I was there because it was just amazing!! They interacted with the audience (which I so did not expect from them!) and sounded just amazing (I know...I couldn't think of another word!).

I had a great time! I met some really nice people...realized I am pretty short compared to Oasis fans and now I wear my Cardinology t-shirt under my work clothes and pretend I'm Superman....True story! ;)


ABOUT THE AUTHOR
Hello..this is my blog. I bought this fancy theme and I don't know what to write here just yet. Maybe one day remind me I have to write something inspiring here?