Day 6: Animal Kingdom
Loving the animals, not so much the Rainforest Cafe!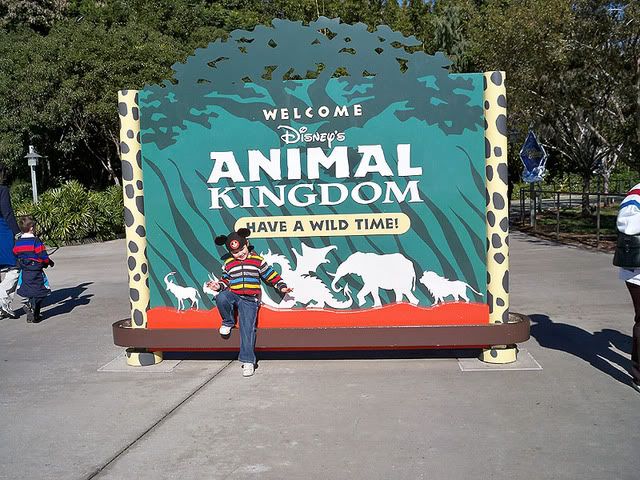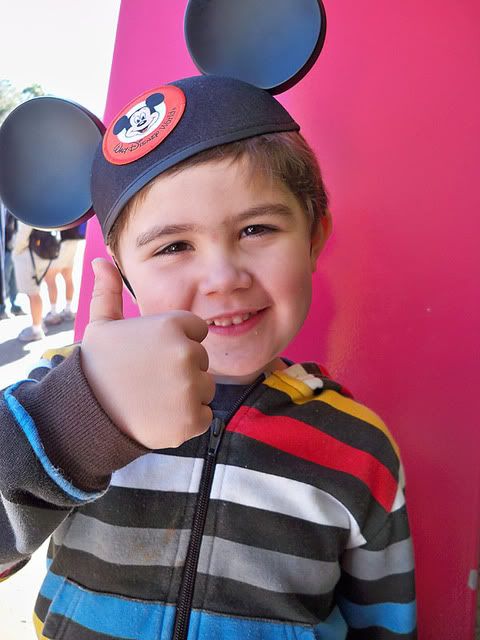 Look who was in a better mood that day...well before we got to the park anyway!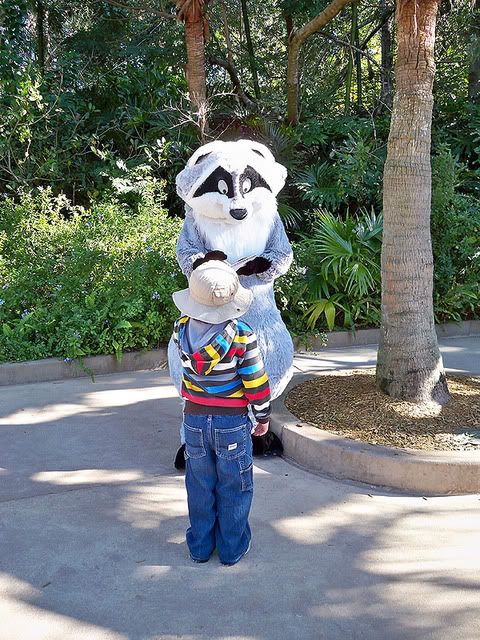 We arrived at Animal Kingdom just in time for lunch. We were greeted by tons of cute characters!! Exciting...meh not for Mr. Grump..he didn't want to have anything to do with any of them really. We entered the park and after consulting the info desk, we decided Rainforest Cafe was our best bet. Hmm..not so much, turns out they wouldn't take our dining plan. Reservation cancelled so it was back to the drawing board for us. We ended up at Tusker House, which usually is a character meal, but since it was lunch time we had just missed the characters.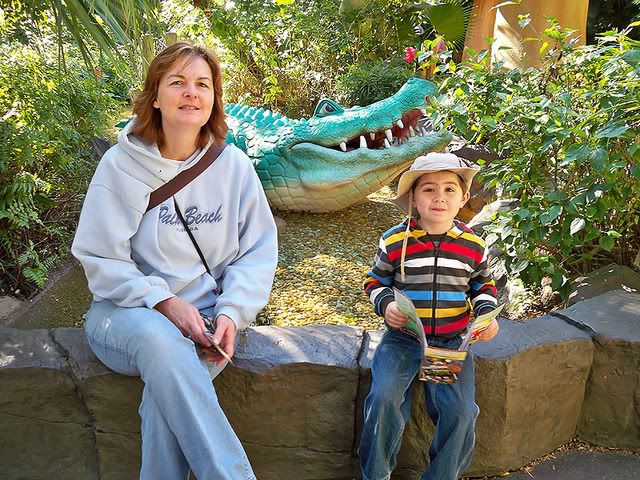 Just before they kicked us out!

It actually turned out to be a pretty decent meal, even though we had heard some reviews from other guests at our resort that it really wasn't worth the time to go. It was a buffet-style restaurant and we ate sooo much food. It was crazy!



We got our fast passes for Kali River Rapids, and went to visit some characters over at Camp Mickey Minnie for a bit while we waited for our turn to come up. Mason was only a little grumpy that day so he wasn't too pleased with all the characters.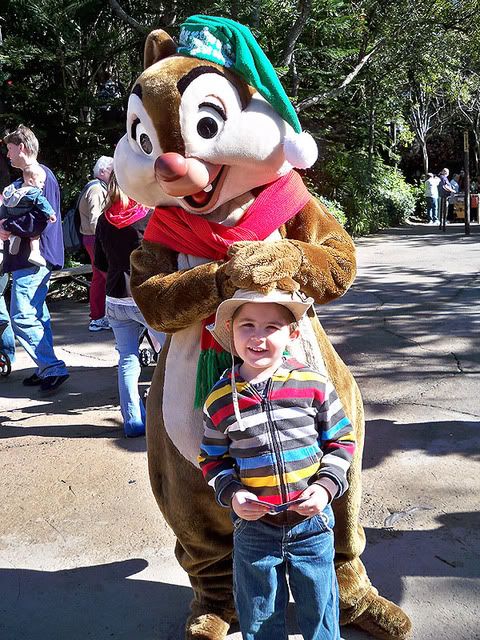 Back to Kali River Rapids...biggest mistake of the day was going the second time on this ride! Mason absolutely loved it though! The first time was great. We all went on, didn't get that wet at all...and finally the kid was laughing and smiling (it had been a few days since he was in a good mood). So when he asked to go again, how could I say no? Would you??? So we went back...just Mason and I. Let me tell you, I got SOAKED!!! Absolute soaker. I also happened to be wearing jeans which were a little bit tight so imagine getting soaked in jeans, skin tight and having to walk around all day...it wasn't nice. Of course they had pants at the end of the ride the biggest, ugliest greyest sweatpants I had ever laid eyes on for the low price of $26 (go ahead, gasp, I sure did!). Product placement or what?? I actually thought of it...then I decided against it and waddled on...now I was the grumpy one!!!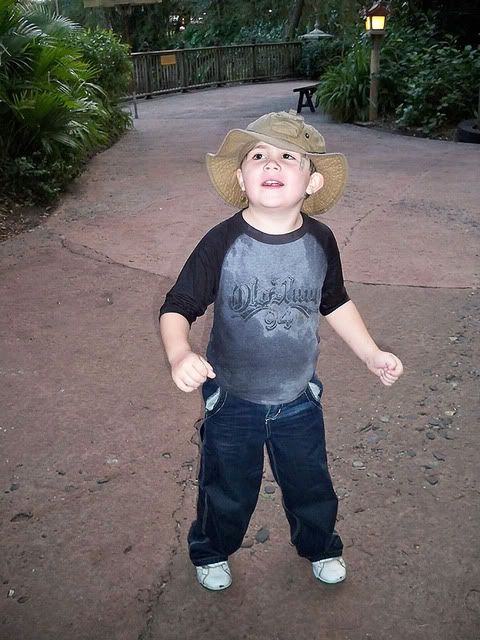 We ended up watching the parade sometime in the afternoon...it was amazing!!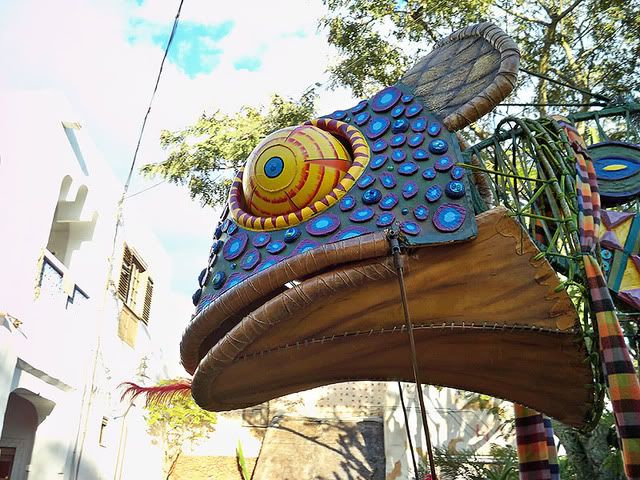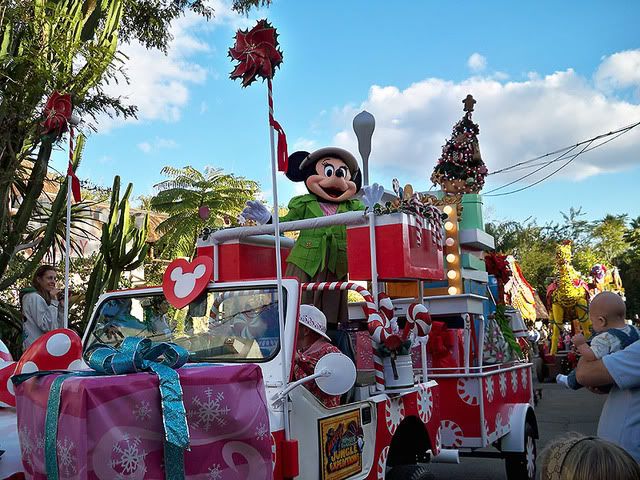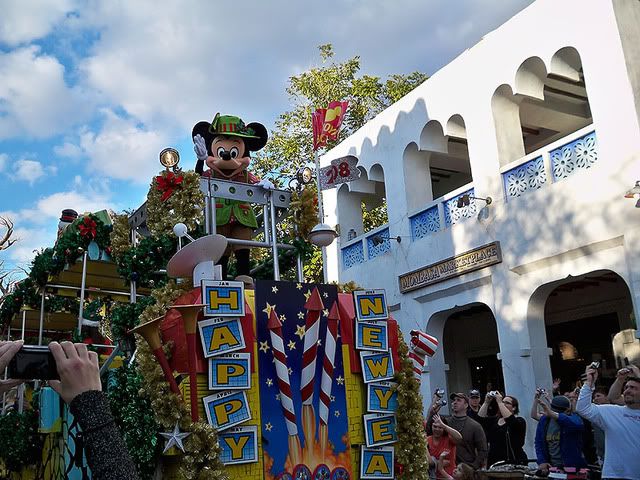 ....then we got friendly with some Pooh characters...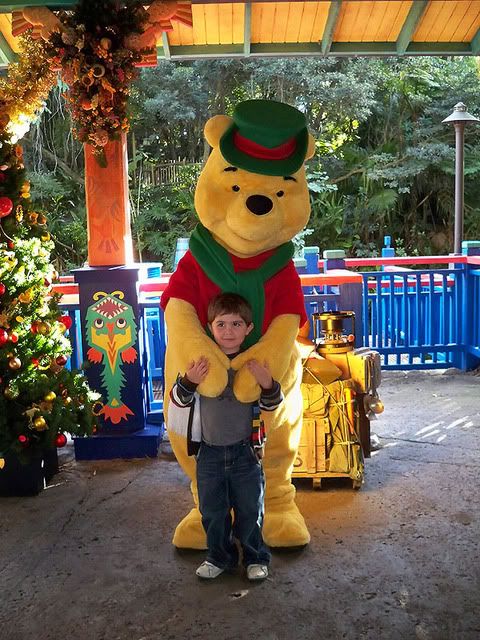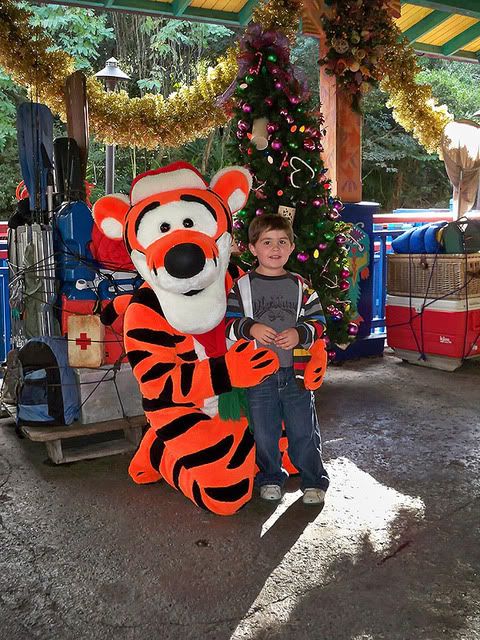 ...and my little safari leader led us right to...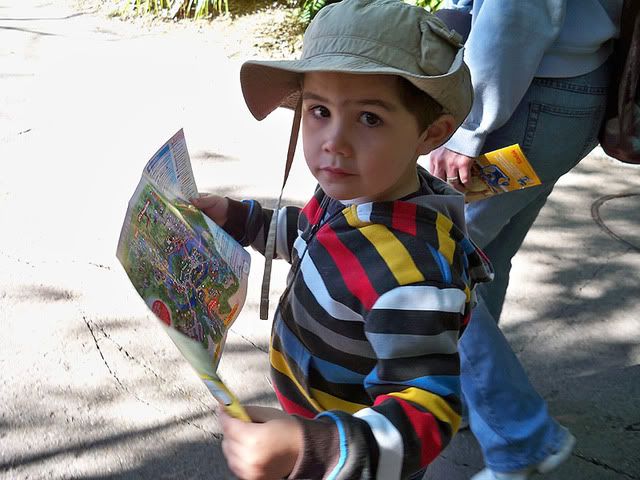 DINOLAND where we rode those stinkin Triceratops again. Imagine how happy I was to be riding those and to have a soaker in my pants...meh, not so much.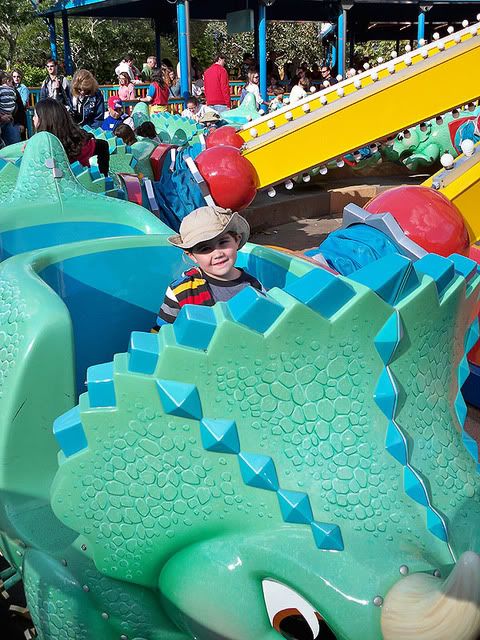 We went on the Kilimanjaro Safaris again...excellent ride yet again!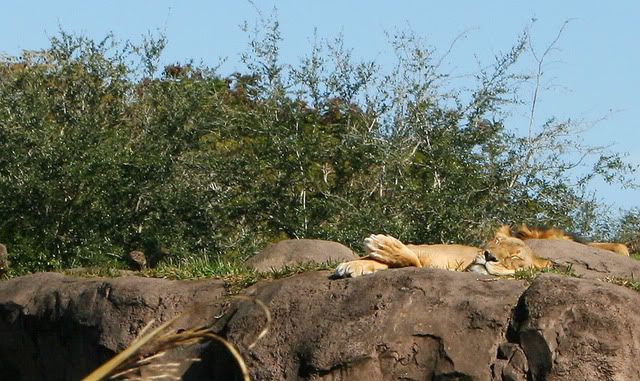 Then it was off to scare the pants off my kid.....

We decided to ride Expedition Everest next. It looked pretty awesome from afar, but once you got up to it, it looked a little scary. Mason wasn't scared at all...going up to it anyway. He was 1cm taller than you had to be to ride this ride, but he wasn't scared at all. It wasn't until we got in the roller coaster when he started to get a bit nervous. Excellent ride...but only if you like being whipped around like a rag doll! I had no fear of Mason falling out though like I did on the Goofy roller coaster...go figure! Mason didn't want to ride that one again. Really neat roller coaster though! I definitely recommend it!

Then someone got the bright idea to take Mason back on Kali River Rapids again... *ahem* wasn't me! So my aunt and Mason went on the ride while I hung out on the bridge waiting to catch a picture of them as they floated by. What I discovered just happened to be one of the best attractions of all...a button you could push to spray people with water as they went by. OMG I had the best time squirting people. There was this one guy though..he was wearing a bright green dress shirt (dude I'm totally sorry). BRIGHT green, and bone dry that is. I totally got him!! It was the best thing. Then I did my best Bart Simpson laugh ever as he walked up with a totally wet shirt and a scowl on his face -ruh-oh!!



He asked if I was the one pushing the button spraying people....quick think of a good answer....and I ended up blurting out "everybody but you" He looked at me funny and walked away...phew punch in the face avoided!! (woohoo!). I sprayed Mason and the aunt and watched as they came out. Mason wanted to go again. My aunt was wet and didn't want to go...and my pants were JUST drying...but my heart..I had to go for him. Luckily I found a poncho that had been left and that helped a bit...but I ended up getting soaked again. You see, we ended up going 3 more times which brings the grand total up to 7 times that Mason had been on that ride that day. I was soaked, but he was absolutely saturated. In fact, to the point that I had to buy him pyjamas to wear because his clothes were just so wet. He did not like this one bit...and threw yet another hissy fit. Oh my child...these are the times when I like to pretend he's not mine!! We ended up finding a stroller that someone had just discarded along the path (the nametag was gone even) so we borrowed that and the grump took a grump-nap. Normally we would have left but we had reservations at Yak and Yeti for 7:30 so we had to stick around.



My sweater was soaking wet from where the water went under my poncho so I ended up buying myself a new sweater. It's pretty nice, a little pricey though and I thought of everything else I could have bought for that money...still it's a good souvenir and I felt pretty comfy after that! We walked around for a bit and as we were walking down one of the dark trails some strange animal darted across the path...it was freaky! I still don't know what it is!!!

It was then time to check in for our reservation where we met the oddest/nicest character of our trip. Our server was very friendly and right away she said she had seen us before. Ohhh kay. Then she asked where we were from and we told her Ontario. She said that she had just visited Ontario last week and that she probably seen us there (meanwhile I live in London Ontario and my aunt lives closer to Toronto...Ontario is just the province!!). She asked if we went to the mall in Ontario (oh it was funny!). Anyway, we didn't really correct her, rest assured I'm pretty sure she had never seen us! I forget what I ate at this restaurant, but I do know that it wasn't that great. I had some pretty high expectations for this place, and the food didn't even come close..it was a little disappointing.

Then it was time to go back to the hotel...a long day, it was great to get back!! I think Mason and I went to the arcade that night and ended up getting his Donald Duck stuffed animal and a few other trinkets from the arcade store!
ABOUT THE AUTHOR
Hello..this is my blog. I bought this fancy theme and I don't know what to write here just yet. Maybe one day remind me I have to write something inspiring here?