Day 5: Magic Kingdom
Magic Kingdom was my all-time favourite park..although not by much because Animal Kingdom came very close. This time we were to hit all the attractions we missed the first time. The first attraction we missed...PIRATES OF THE CARIBBEAN!! How on earth did I miss that the first time? I mean I've been waiting to flash the Johnny Depp statue for ages...hehe just kidding, I told you it wasn't me!!! No, but seriously, I've been wanting to see the little statue man of him like forever...unfortunate for ya'll, there was no flash photography allowed and I didn't want Johnny to melt on my behalf or anything so I do not have any pictures from this ride (That aren't blurry beyond recognition from having no flash and a very high ISO). So you'll just have to trust me...he was still hot even all plasticy like...except when he was peeking out of that barrel...he just looked creepy then.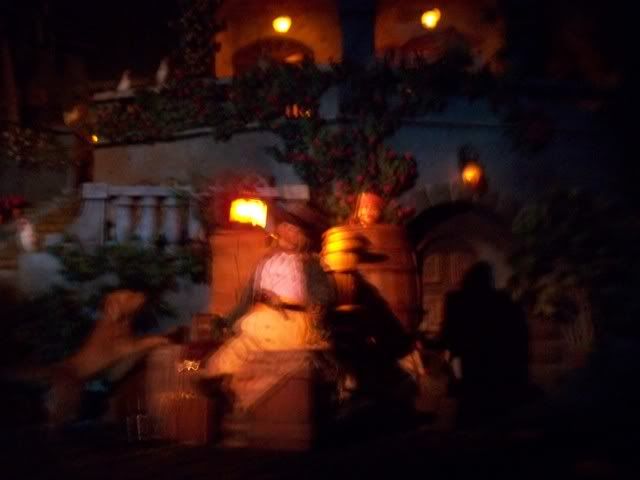 ...then we met up with some old friends!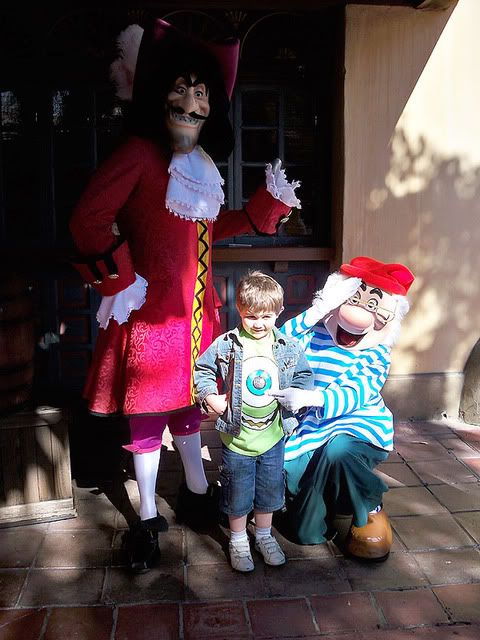 (who really seemed to like Mason's shirt)

Speaking of cameras, the camera situation was not that great on this day. I'm not sure if Camera 1 was with us...but we ended up with dead batteries on all available cameras...guess when? Yep during the parade...AGAIN!!!

Ah, the Jungle Cruise. Classic Disney ride...a little scary though I must admit because these were real boats...driven by real people...and real 4-year-olds. Yes, our jungle captain let my little critter drive a real life boat. Now I could be all like..oh you guys he was awesome at driving that boat, but I'm not gonna lie...I almost pooped my pants I was so scared!! I hate boats...a lot. Mason thought he was Mr. Cool for the rest of the day after that.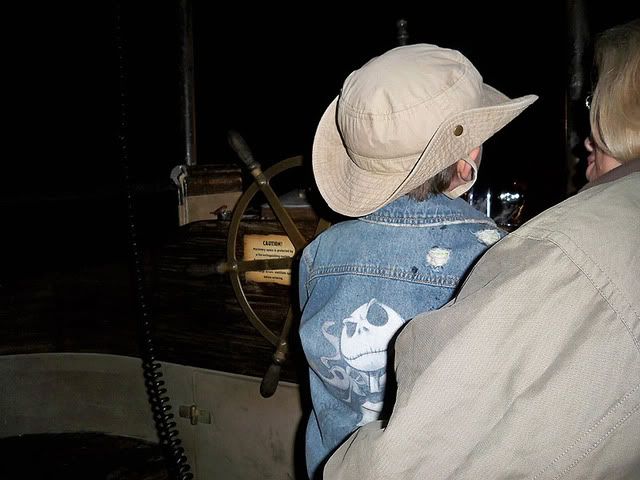 I think he wanted to be referred to as Cap'n Hook from then on...kind of creepy!

The Magic Carpets of Aladdin was next....meh, they were okay. Just your average Dumbo knock-off...and kind of annoying actually. Mason liked them though.

The Swiss Family Treehouse was pretty cool...I guess...but I don't like heights. I don't like wooden tree houses and I don't like a lot of people on a little wooden treehouse that I can picture in my mind plummeting through every branch of that big fake tree. So Swiss family...I hate your house! Move to a condo or something... I don't think your tree is safe.

Okay then imagine my face when my 4-year-old agreed to go on The Haunted Mansion (with a few bribes). This is the kid who was afraid to ride the Winnie The Freakin Pooh ride for crying out loud, but he bravely said yes. Again, no pictures of the ghosties for you!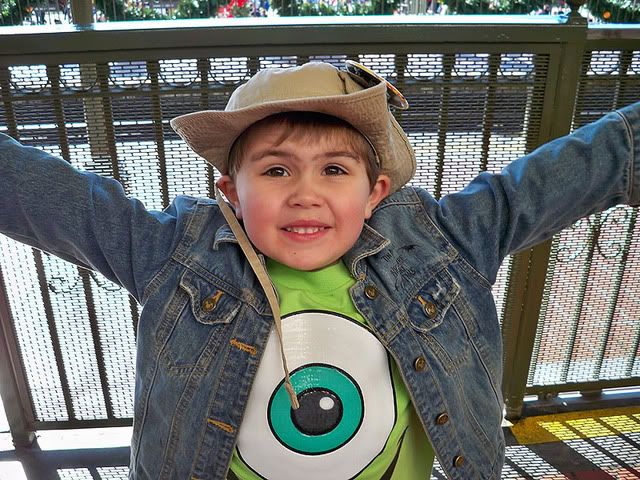 We stopped over at Sleepy Hollow for some funnel cake and a Tinkerbell Slushy (which was sour as all heck and made me thirsty like forever...actually I can still feel my throat all shribbled up from it!). It cost a whole snack credit though so I had to pretend to like it...plus it was cute and Tinkerbell...I couldn't just throw it away...I couldn't give it away either, nobody wanted it!

After that my aunt took Mason on the carousel while I went and bought him one of those Mickey hats with his name sewn on the back. It's so cute but the little creep wouldn't wear it after the elastic shot up and hit him in the eye. He was a little mad about that.

I took a few of those Sword in the Stone pictures....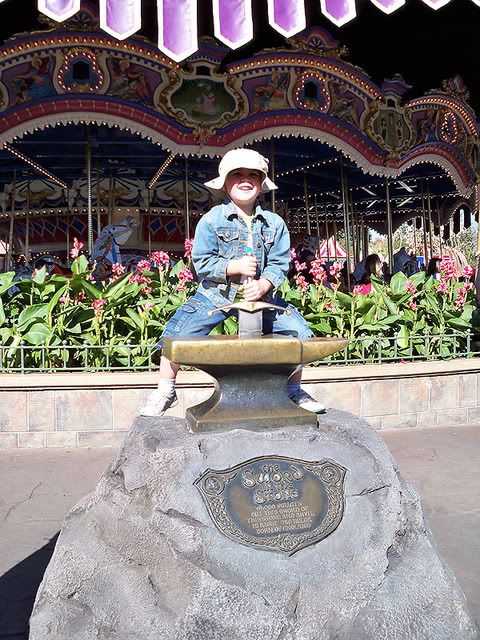 and then we headed over to the parade where we got some pretty good seats!....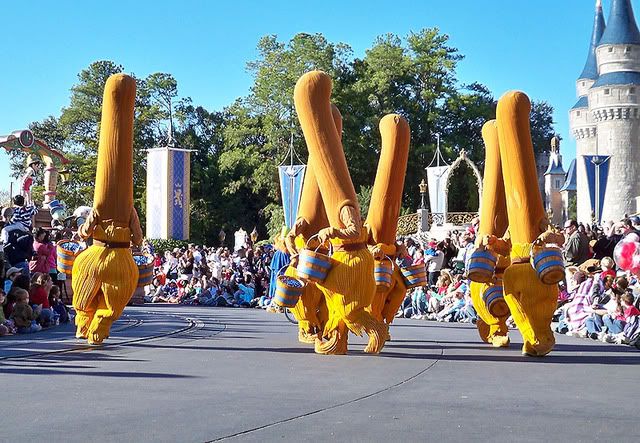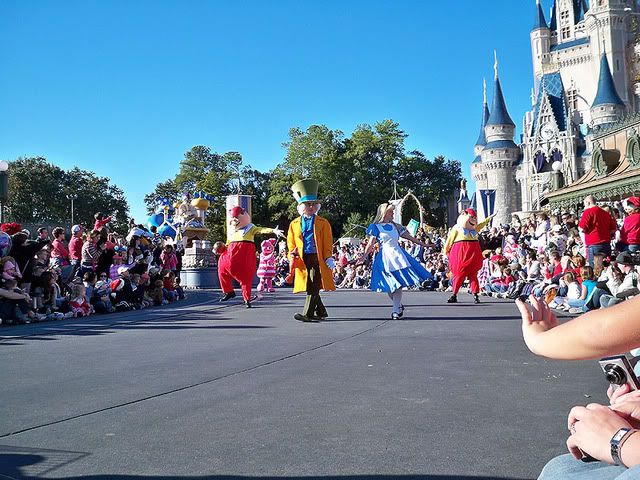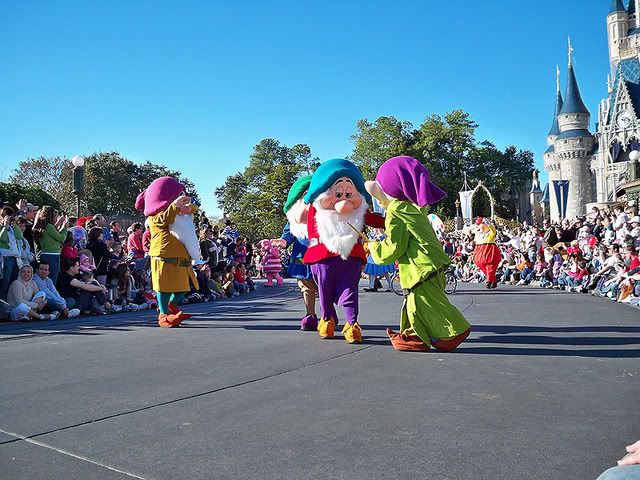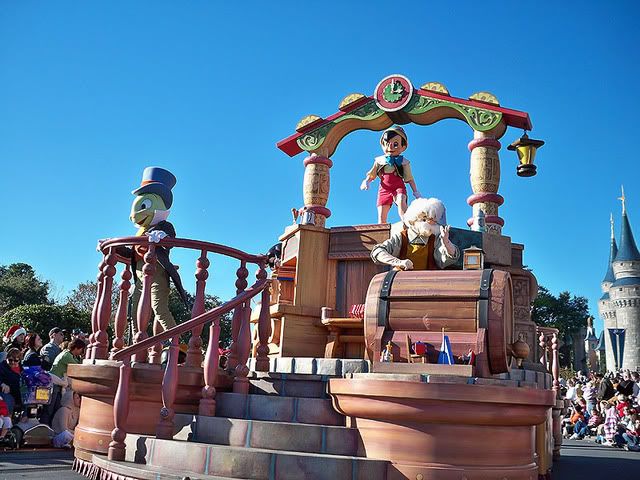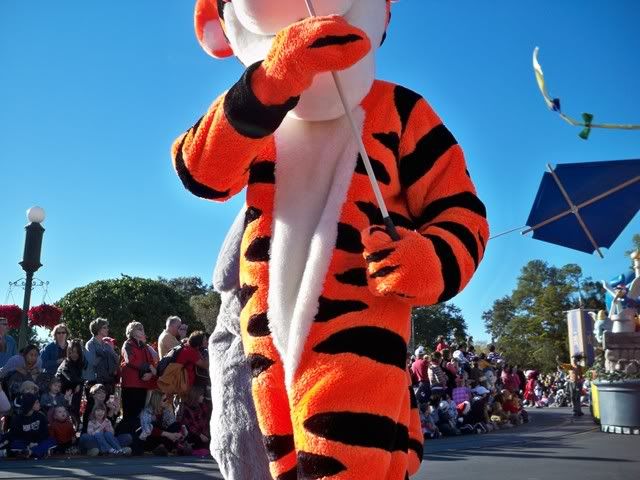 ...Tigger totally got in my way!

We then went over to Mickey's PhilharMagic which was a totally amazing theater "ride". Loved it! Then we went home...I think. Actually the rest of this day is a blur to me...and I have no idea why!! I think we possibly went home for a nap and then went to Downtown Disney and back to Raglan Road..yes I think that is what we did.
ABOUT THE AUTHOR
Hello..this is my blog. I bought this fancy theme and I don't know what to write here just yet. Maybe one day remind me I have to write something inspiring here?