Day 4: Hollywood Studios
AKA - Mason Meets His Idols...
I had much anticipation for Hollywood Studios. Not only because this was the only park we hadn't been to yet, but because I had heard rumours that this is where you would find Mason's idols. I was so excited for him...unfortunately he was in a grump...again...so I threw this hat on him and took a pic!!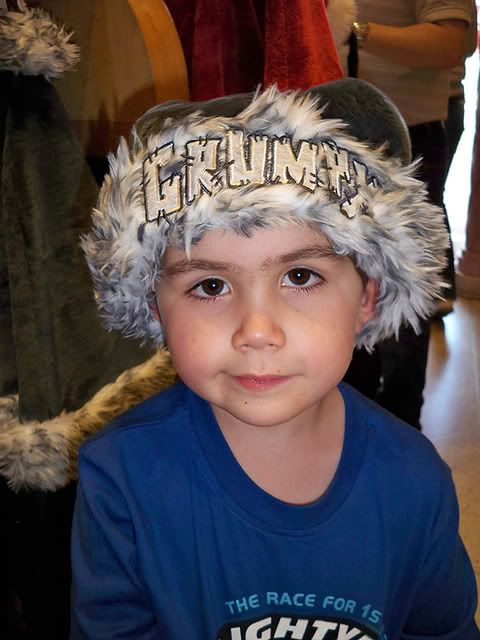 The first attraction of the day...The Muppets!! Muppet Vision 3-D was amazing!!! It was another one of those sit down and watch theatric shows that sprays your in the face and blows wind in your hair etc. Mason hated it. He threw a tantrum but once the show started he was a little bit okay....but still in a grump.

The grumpy mood lifted a bit when we came around the corner from the Muppets to find...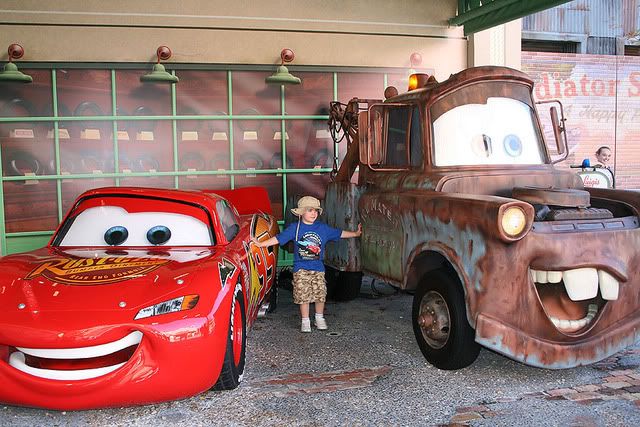 LIGHTNING MCQUEEN AND MATER!!! The kid was in his glory..he had stars in his eyes. He was pretty stoked to be standing next to these two and touching them both at the same time. I got some pretty great pictures too.



A very brief stop at Honey I Shrunk the Kids Movie Set Adventure which turned out to be a bad idea. This playground was VERY busy and I could just picture my kid being the one who gets lost in the giant roll of film or something...a quick few pics and then we moved on.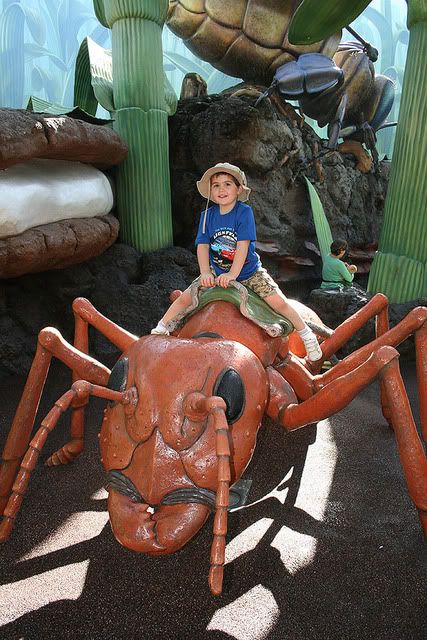 We walked for a bit more and came across a shop where...OMG THEY HAVE THE SLINKY DOG!!! I was soooo happy! You see, Mason had asked for a Slinky Dog toy from Toy Story for Christmas. The Slinky Dog toy was marked up to the price of exactly $26. Money I did not want to spend on a Slinky Dog. Not to mention, this store was pretty far from home so I would have to get a ride out there. So not worth it. When I saw slinky dog at this store for $12 I almost died of excitement!!! So now I knew where to find the slinky dog. We went on from the store and walked around a bit, but when I thought about it, there were only 2 slinky dogs left. This was the only place I saw slinky dog so we had to go back and carry it around for the rest of the day because I was too afraid they would sell out!!!


Our next stop was Buzz and Woody land. Our plan was to get a fast pass for Toy Story Midway Mania....alas they were all sold out for the day. Very sad, we did not get to ride this. We did however go through Woody and Buzz's picture taking thingy. Grumpy was not in the mood...but he came around when he saw his two second-favourite guys Buzz and Woody. This time when he met Buzz he did get to push his buttons...which I thought was pretty cute. I thought the grumpster would react a little bit negatively when he found out they didn't do anything, but he was okay. Got some great pictures with these characters and then we were on our way.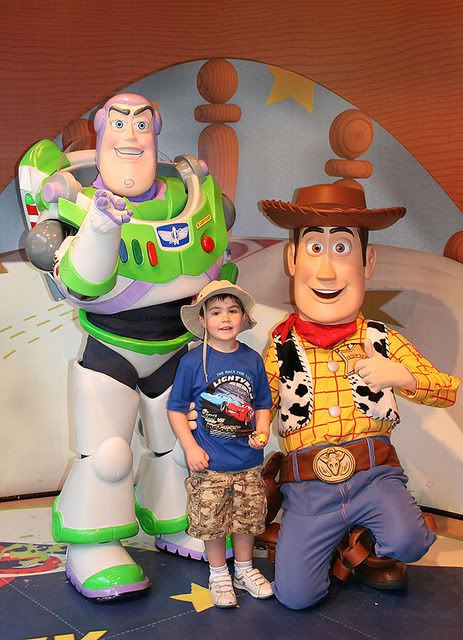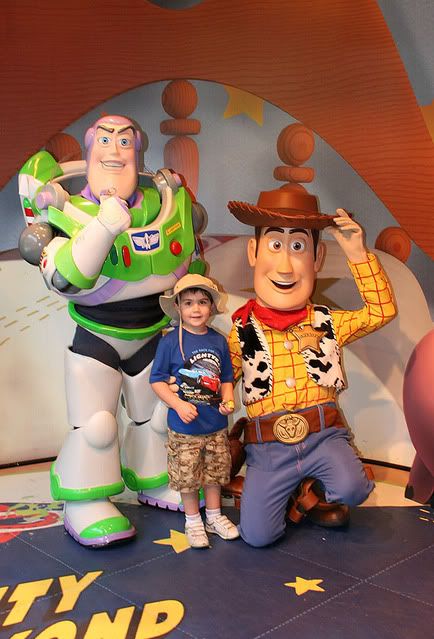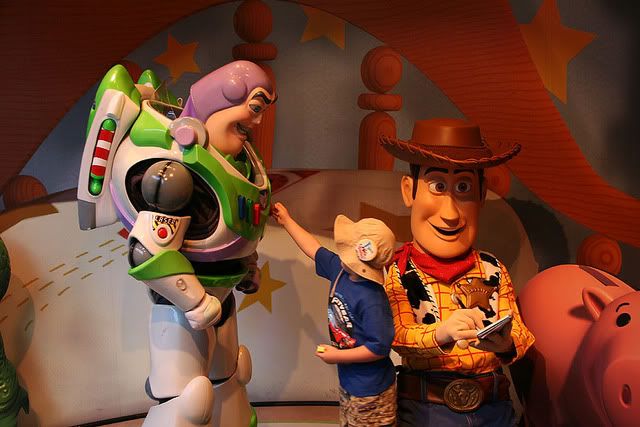 All meltdowns experienced from Mason were nothing compared to the one experienced in line for The Little Mermaid. When he said he did not want to go on this ride..he meant it. It turned into a pinching match...where I lost miserably. He actually was pinching me as hard as he could...little creep! We dragged him into this stage show where he sat and pouted the entire time.

Stopped to get an ice cream and decided what to do next which ultimately ended up being our trip home for some much needed naps and preparations for our trip back to Downtown Disney!

A few things I found odd about Hollywood Studios...

The topiaries...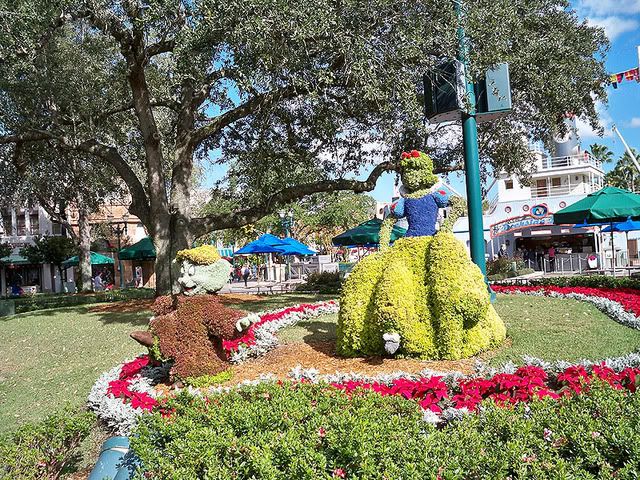 Now, I love Snow White...but is that.... *ahem* a you-know-what?

The clones...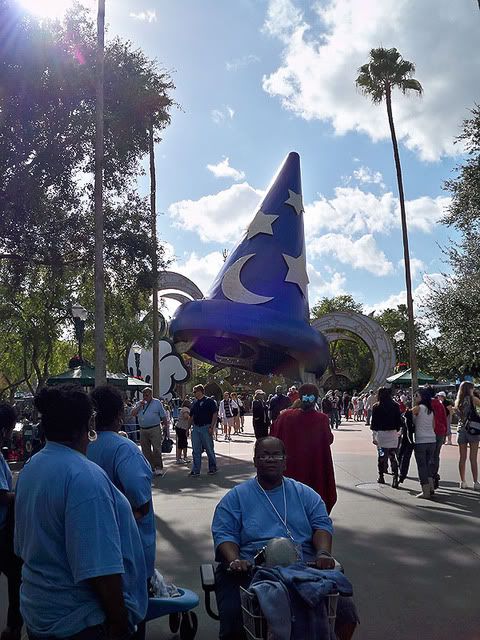 Seriously, I thought I was in an episode of the X-Files for a minute. Did they really need to wear the same clothes? Confusing!! I mean I got all excited thinking that was Randy Jackson...but then I was likeWOAH that would have been embarrassing if I went up asking for an autograph..especially as I got closer I realized it was a lady *blush* my bad!

ABOUT THE AUTHOR
Hello..this is my blog. I bought this fancy theme and I don't know what to write here just yet. Maybe one day remind me I have to write something inspiring here?